Posts: 575
Joined: Tue Sep 24, 2013 10:28 pm
Location: The U.S. of A.
Well. Discord was great this episode. Pinkie digressed back into child mode
.
---
They just don't seem to know what to do with pinkie this season overall.
---
Posts: 575
Joined: Tue Sep 24, 2013 10:28 pm
Location: The U.S. of A.
As much as I do find Pinkie funny this season, only Pinkie Apple Pie has managed to make Pinkie seem normal (for her) and in character. It is somewhat depressing to me
---
The show has taken a noticeably different direction on a lot of things this season. Different good or bad is up to the viewer.
---
Well at least we got two new creatures added to the cannon universe. The Breezies have been mentioned, a race sort-of related to flutter-ponies. And of course,
the Tatzlwurm.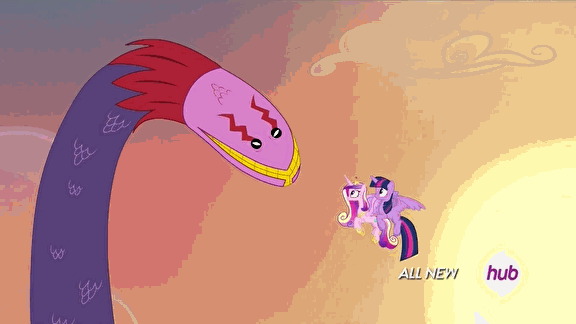 And it was a bit of a shame for Pinkie to only show up for a bit in this episode, but perhaps the next episode that's focused on her will make it up.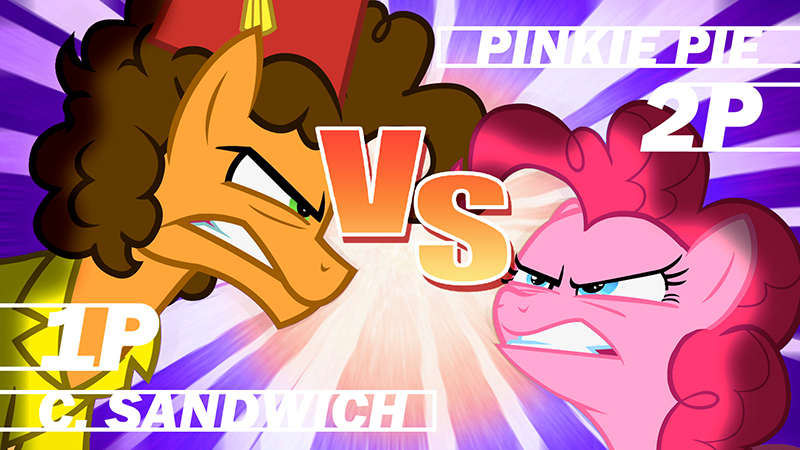 I'm excited for the episode because of the guest star it has, myself.
---
I await this new episode with equal parts glee and terror.
---
I've liked Pinkie so far and really don't see the issue. She's always been rather out there and hard to write while just a background character. But does great when in the spotlight, that's just how she is, and, with one exception, I've loved all her stuff this season.

The one being Rainbow Falls... oh goddesses was that painful. That was the first time I ever found he just plain annoying. But, having a horrible bit part was hardly unique to her in that ep.
---
I kind of hate Rainbow Falls because of how this fandom lost it's collective mind over Derpy coming back (Never said it here, but I hate Derpy because of this fandom), and Three's A Crowd was just very meh to me. Otherwise, I love Season 4 as a whole so far, my favorite episodes being Princess Twilight Sparkle Episodes 1 & 2, Power Ponies, and Rarity Takes Manehattan, and I for one eagerly await this Saturday's episode.
---
Posts: 263
Joined: Sat Sep 14, 2013 5:28 pm
I think they mentioned Breezies in this episode to set things up for episode 16, "It Ain't Easy Being Breezies." (No summary yet, just the title.) Wonder if it'll be a flashback to Fluttershy's trip, or if it'll involve her using what she learned off-screen to deal with a different set of Breezies.

This week's episode was a lot of fun, though. Discord's song was just insane... you can tell they had way too much fun doing the animation for it. I was kind of surprised it turned out he was faking... before the Tatzelwurm got him. (I thought he was genuinely sick, just exaggerating it for attention.) I am happy though, he hasn't lost any of his personality. Discord's still a massive troll, I think he actually enjoys seeing how havoc he can wreak now that he's "reformed." I do think he genuinely likes Fluttershy, but the others? I think he'll always like messing with them.
(I've also been getting a kick out of the fuss that's been kicked up over a cameo by a certain pegasus. He didn't even say anything and people were losing their minds. A shame, I'd like to see him developed as a proper character.)
---
Agreed. He does care about Fluttershy, but the rest, they are simply toys for his amusement. Though he knows there is a line he has to be careful not to cross.

Though to be fair, the rest don't help matters with the way they treat him. None of them actually want, or even try to be his friends, and he knows this, so why should he be nice to them? Which just makes them less likely to be nice to him, and it's a cycle.

Rainbow Falls was the weakest of the eps for me, just because of all the annoying, and idiotic shit. AJ's feeding Fetish, Pinkie being just plain annoying, Rarity being dumb and.. those outfits.... The Wonderbolts being rather sleezy, That.. whatever it was Twi was wearing at the end. BUT. Loved everything about Twi and Dash, loved the main plot, outside of how the Wonderbolts acted. Just, everything around it sucked.
---
---
Who is online
Users browsing this forum: No registered users and 1 guest